I like to hit the RO garage sale right when it opens, before it gets too crowded and before the heat gets unbearable. I was looking for bargains for various projects and I think I found a few.
Vintage fabric for one dollar - a curtain panel and top in perfect condition.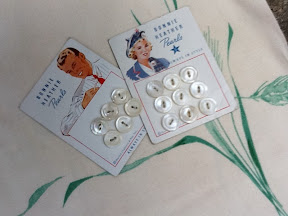 Vintage button cards for a dollar each, again in pristine condition.
Crystal pendants for 50 cents each, great price!
Vintage Christmas ornaments in the colors I love - 5 dollars for the bunch, couldn't resist!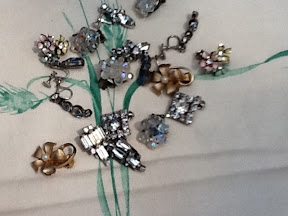 The main thing I was looking for was old keys and vintage earrings to refresh my stash. One booth had lots of skeleton keys, but way above my price point. There were tons of old earrings everywhere, but most were pricey. One of the last booths I hit in the bowels of the garage had a bit of old jewelry 3 for $5. I scooped up a great assortment of really pretty sparkling earrings that I can use in my next set of projects. SCORE!!!
Posted using BlogPress from my iPad